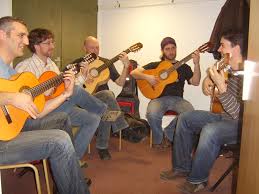 Beginning Group Guitar Class for Adult Students
Group guitar class for beginners is a great class for adults with no prior experience who are interested in learning to play the classical guitar.
Knight Music Academy now offers adult beginning group guitar lessons for adult students with no previous experience. Classes begin this fall on Monday evenings at 7:15PM. Join us each week for a fun-filled 45 minute class. You will learn how to hold the instrument, read music, develop left and right hand technique, and more. These 45-minute classes meet weekly for an 11-week term. All students are required to purchase a book and should have their own guitar. Call us today at 847-726-8742 for more information and to sign up. Tuition: $220 plus registration fee. Materials extra.