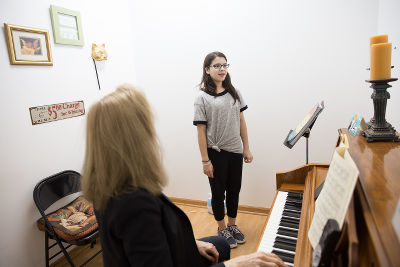 Knight Music Academy offers traditional voice lessons for children and adults, beginner through advanced. Private voice lessons are offered in 30, 45, and 60 minutes to be held weekly. Students will learn posture, breath support, diction, note reading, theory, and performance practices, in the context of exercises and repertoire (songs from various time periods, styles and languages). Students, both children and adults alike, are presented with a minimum of 3 performance opportunities per school year.
Song Circle
Designed for children ages 7-9, this 30-minute class will help children discover and develop their singing voices in a friendly and supportive small group setting. Technique, sight-singing, and singing in unison are the cornerstones of this class.
Knight Music Academy is committed to offering only the best music instruction. In keeping with that goal, our voice teachers have advanced degrees in Vocal Performance and many years of teaching and performance experience. Our instructors are friendly and patient, and will work with you to ensure that you have fun while you learn.
Please note: voice lessons are not appropriate for all children. Done too early, the vocal chords can become injured. Please call the Academy to speak with one of our administrators to find out more about voice lessons for children.