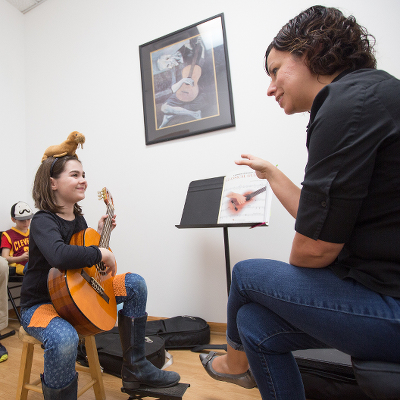 Knight Music Academy offers Suzuki classical guitar lessons, and traditional classical guitar lessons for children and adults. Whether you are an absolute beginner to music or you have played guitar for years, you will find our studio to be the ideal place to learn and progress. Knight Music Academy is committed to offering only the best music instruction, and keeping with that goal, the guitar instructors at Knight Music Academy have outstanding credentials. Specifically, all hold a minimum of Master's Degrees in Guitar Performance, have multiple levels of Suzuki training, and have many years of teaching and performance experience. Our instructors will motivate and inspire students ensuring that students not only learn guitar, but have fun too!
Suzuki Instruction
Suzuki guitar lessons at Knight Music Academy are a great way to introduce your children to music. Ideal for children between ages 5-10, students take private 30, 45, or 60 minute weekly lessons and a weekly 30-minute group class comprised of their peers. For more information on the Suzuki Method, please visit the Suzuki Association of the Americas website.
Traditional Instruction
Students from ages 11 through adult may take guitar lessons via a traditional method. Lessons are offered in 30, 45, and 60 minute one-on-one sessions.
Adult Beginning Group Guitar Class
No previous experience necessary! An experienced instructor will guide you through the basics of guitar playing: how to hold the instrument, read music, develop left and right hand technique and more! These 45-minute classes meet weekly for an 11-week term. All students will be required to purchase a book and should have their own guitar.

Guitar Ensemble
Knight Music Academy is proud to offer Classical Guitar Ensemble — a class that few schools throughout the country offer! This weekly 45-minute class is by invitation only. Students invited to participate have a solid foundation in technique, note reading and rhythm. We offer both youth and adult ensembles.
Annual Guitar Workshop
We are proud to offer an annual workshop in which students, both Suzuki and Traditional, children and adults, beginner through advanced, have the opportunity to work with guest clinicians. Past workshops have included masterclasses (semi-private lessons), ensemble classes, Suzuki group classes, technique classes, Suzuki parent Q & A sessions, student performances, and guest clinician recitals. All clinicians, like our faculty, hold advanced degrees in guitar, have Suzuki training, and have many years of teaching and performance experience.
Performance Opportunities
All students are offered a minimum of 3 performance opportunities during the course of each school year to showcase both solo and ensemble accomplishments.
Request a free trial lesson