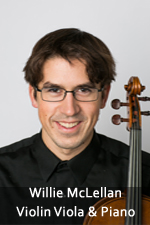 Willie McLellan is an active educator and performer in the Chicagoland based in Chicago. A native of St. Paul, Minnesota, his first experience playing a musical instrument was taking piano lessons at age 7 with a neighbor. Being eager to begin, he accidentally showed up a week early to his first lesson! A couple of years later he took up the violin in his school district's orchestra program and was quickly hooked. Willie committed himself to learning the viola when his middle school string quartet had three violinists and a cello. Playing chamber music has been a great passion of his ever since.
Highlights of Mr. McLellan's higher education include earning a BM in violin performance at UW-Madison under Felicia Moye, moving to Chicago for his MM in viola performance with Rami Solomonow at DePaul University, and recently acting as the viola teaching assistant to Tony Devroye at Northern Illinois University. He has been fortunate to study and perform at various summer music festivals such as the Northern Lights Chamber Music Institute in the north woods of Minnesota, the late Lorin Maazel's Castleton festival based in rural Virginia, and Icicle Creek Center for the Arts in the Cascades.
In Chicago, Willie was a regular violist with the Civic Orchestra. During his two year tenure he played in the MusiCorps String Quartet, which gave presentations at elementary schools and performed at park district locations. Other ensembles he has played with include the Illinois, Rockford, and Oistrakh symphonies. He maintains a private studio and also teaches group lessons in public schools. Willie studied the Suzuki method with Ed Kreitman in Western Springs.