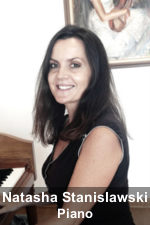 Natasha Stanislawski studied  Piano and Musicology at the Music Academy of the University of Belgrade where she was awarded a full scholarship.  Due to the war and break up of former Yugoslavia, Ms. Stanislawski found herself in Chicago where she earned her Bachelor of Arts in Piano Performance and Pedagogy from the Chicago College of the Performing Arts at Roosevelt University where she studied with Dr. Ludmila Lazar.  
Ms. Stanislawski is has been an active teacher for 20 years. During that time, she has  taught piano lessons, music theory, harmony and composition to students of all ages. She has also taught children with autism with great success.  She received Suzuki teacher training under Yasuko Joichi.
An internationally celebrated solo and chamber music performer, honored with first place awards in both national and international piano competitions, Ms. Stanislawski has performed with the likes of Hector Rodriguez, principal horn of the Miami Symphony Orchestra.  Additionally, she is a sought-after adjudicator for competitions, and an active participant in many piano seminars and music conferences.
Natasha loves teaching as well as performing. She hopes to spread her love and appreciation for classical music to everyone she meets. Her favorite composers are Beethoven, Bach and Rachmaninoff, but she truly enjoys music of all great composers from Baroque style to the 20th century music. She is fluent in Serbian, Croatian, Bosnian and English and can teach in those Slavic languages as well.