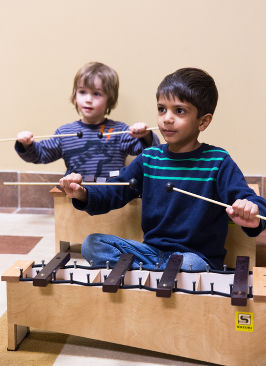 Mini-Mozarts ( for ages 1-4)
Mini Mozarts is an 11-week organic program, influenced by Orff and Suzuki methodologies, that provides sequential music education focused on the rudiments of music: beat, rhythm, and pitch-matching. Through age appropriate mediums such as song, rhyme, chant, movement, and child-friendly instruments, children internalize these concepts while developing a love for music. Children develop important life skills including listening, following directions, and social interaction. Parents and their children learn music together while bonding in these fun and nurturing classes.
Bilingual Mini-Mozarts: English and Spanish (for ages 2-4)
Using the same methodologies and educational elements that our original Mini-Mozarts class utilizes, our 45-minute bilingual class engages students ages 2-4 through song, chant and rhyme in English and Spanish. Emergent literacy is also addressed in this class through use of age-appropriate books. Use of movements, props, and instruments make the class come to life.  Snacks/beverages from Spanish-speaking cultures provided at the end of some classes.
Budding Beethovens (for ages 4-6)
Have a child who is too young or not quite ready to begin instrument lessons? Budding Beethovens (Orff) classes are for you! Activities for this 30-minute weekly class are based on things that children naturally like to do: sing, chant rhymes, clap, dance and play. Use of pitched instruments (xylophones, glockenspiels, metallophones) and unpitched percussion instruments (claves, sand blocks, maracas, triangle, drums, etc.) make the class even more fun for the kids. Concepts such as beat, rhythm and pitch-matching are intellectualized in this class. Class size is limited to 5 students.
Song Circle (for ages 7-9)
Designed for children ages 7-9, this 30-minute class will help children discover and develop their singing voices in a friendly and supportive small group setting. Technique, sight-singing, and singing in unison are the cornerstones of this class.