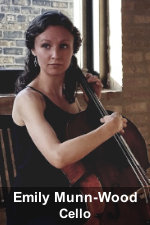 Emily Munn-Wood is a cellist and teacher in Chicago. She graduated from the University of Massachusetts Amherst, summa cum laude, with a bachelor's degree in cello performance and from DePaul University, summa cum laude, with a master's degree in cello performance. Her principal teachers are Astrid Schween and Stephen Balderston. Emily will begin her first season with the Peoria Symphony in the fall.

Emily is a committed teacher of cello. She completed Suzuki Book 1 training with Dr. Carey Cheney in summer 2014 and took courses in studio teaching as a profession and in cello pedagogy during her time at DePaul. She maintains a small private studio in Chicago.

In addition to playing the cello, Emily is passionate about public service and volunteerism. She is a proud AmeriCorps alum and taught English as a New Language preschool during her service year. She has also mentored with the Amherst-Pelham Regional Middle School eighth grade orchestra and served as an English as a Second Language tutor through the Jones Public Library in Amherst.