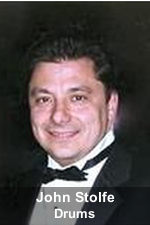 As a teaching artist, director, clinician & percussion coach, John has taught groups that have performed at venues around the US including: Disney World, the United Nations and the Intrepid Sea, Air & Space Museum in New York City, the Bands of America Marching Band Championships, the Minnesota Percussion Association, the Indiana Percussion Association, Winter Guard International, the Wisconsin State Marching Band Championships, the Illinois Marching Band Championships, and WSMA.
Since 1987, John has worked in school settings as jazz band director, pit orchestra director, drum line coach, and percussion ensemble director. Since 2005, John has been the percussion ensemble director at several Kenosha Unified School District (KUSD) schools as well as acting as a clinician and instructor for the KUSD summer band program. He provides educational/consultative/clinician services to schools and music programs throughout Illinois and Wisconsin. John has consulted on numerous percussion education publications including, A Fresh Approach to the Drum Set by Mark Wessels and Modern School for Mallet Instruments by Jim Sewrey, Ben Hans & Tom Schellner.
As a performing musician, John has performed as a percussionist and drum set performer with numerous ensembles in the orchestral, concert band, jazz, and pop genres, both in live and studio settings. For 30+ years, performed in the pit orchestras of many music theater productions between Milwaukee and Chicago. Recently, he performed with the World Stage Theatre group for their off-Broadway premier at the historic Cherry Lane Theater in New York City…New York's longest running off-Broadway theater.
John is the founder and owner of Stolfe's Portside Percussion Studio (stolfepercussion.com), an independent percussion studio which opened in September 2005 in Kenosha, WI. He has taught hundreds of students of all ages private percussion lessons, master classes and group ensemble instruction. Additionally, he has coordinated, sponsored, and facilitated various workshops and festivals with industry performing artists and leading educators in the field of percussion education.
John is an active rhythm facilitator. Through his company, UpBeat Wellness, he provides therapeutic drumming and wellness workshops, in addition to team building and organizational development events for companies and organizations around the Midwest. Each workshop event utilizes drumming, providing a memorable, unique and fun wellness experience.
John is a Roosevelt University graduate, with additional studies in music education from Carthage College. He has studied with many of the leaders in interactive drumming facilitation including: Arthur Hull, Christine Stevens, Robert Friedman, Dave Holland, Craig Woodson, Jeni Swerdlow and Kenya Masala.
John is an active member of the Percussive Arts Society (PAS), the Vic Firth Education Team and is a REMO HealthRHYTHMS Facilitator. In addition to his work in music and music education, John is an active wellness entrepreneur and certified Integrative Nutrition Health Coach (INHC).