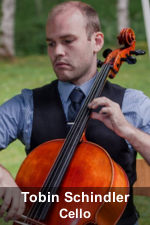 Originally from the Seattle area, Tobin Schindler has received a number of musical honors, including: winning several concerto competitions, performing the Elgar and Kabalevsky concerti; being hailed as "a masterful cellist" after achieving first place in the Virginia Glover WWU Music Award Competition; and performing in masterclasses with cellists Lynn Harrell, David Ying, and Alan Rafferty.
Tobin has served as an Associate member of the Civic Orchestra of Chicago and has appeared as Assistant Principal of the Bremerton Symphony. He has also performed as Principal cellist of the Western Washington University and as Assistant Principal of the DePaul Symphony Orchestra. Tobin has been heavily involved in chamber music for most of his career and has played in a wide variety of instrumentations and styles. His groups have performed for artists including Efe Baltacigil and the Calidore Quartet.
As a teacher, Tobin began giving private lessons in his time pursuing a bachelor degree at WWU. After graduating, he taught both string orchestra classes and private lesson in the Central Kitsap region of Washington State as part of the Homeschool Strings program as well as through Ted Brown Music in Silverdale, WA. In addition to working at the Knight Music Academy, Tobin has taught cello students at many music schools in the area including the Chicago West Community Music Center and the Christopher Laughlin School of Music. In addition, he currently teaches cello sectionals for the Niles West High School orchestra.