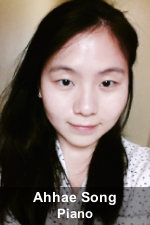 Ahhae Song is pursuing a piano performance certificate from NIU with Dr. William Goldenberg after earning her master's degree in NIU. Before she got her master, she got her bachelor's degree in South Korea and a piano performance certification from Judson University.
She has experience teaching all levels of students and also teaches group piano classes at NIU. She worked at many piano studios in South Korea and now, she is teaching students in the Dekalb area. She believes a flexible teaching style leads to the best outcomes with her students and also believes that learning music can help students express their thoughts and feelings freely. This leads to greater wellness and healing for all involved.
Ahhae is also an experienced accompanist. She has accompanied for many summer camps, recitals, juries, and competitions. She also has accompanied vocalists, choirs, and instrumentalists at NIU and Judson University as a graduate assistant. She has also performed on concert tours throughout Europe and Jamaica with the Judson University Choir.